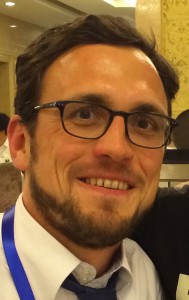 Christian F. Janßen studied Civil Engineering and Computational Sciences in Engineering (CSE) in Braunschweig, Germany, and Paris, France. In 2010, he received his PhD from Braunschweig University of Technology for his dissertation on kinetic approaches for the simulation of non-linear free surface flow problems in civil and environmental engineering. Apart from free surface flows, he is interested in high-performance computing on GPUs, fluid-structure interaction and long wave propagation.
Since the completion of his PhD, he is developing the GPU-accelerated free surface solver ELBE. The development efforts mainly take place at the Institute for Fluid Dynamics and Ship Theory (FDS) at Hamburg University of Technology (TUHH), with external partners and contributors at University of Rhode Island and TU Braunschweig.
In November 2017, Christian joined Altair Engineering as Program Manager for the GPU-accelerated commercial Lattice-Boltzmann solver ultraFluidX.

 – 
 – Google Scholar Citations – ResearchGate –
– Scopus – GitHub
Work
Since 2017
Program Manager, Altair Engineering

Program Management for ultraFluidX, a GPU-accelerated LBM-based solver for external car aerodynamics

2012 – 2017
Postdoctoral research fellow, Institute of Fluid Dynamics and Ship Theory, Hamburg University of Technology (TUHH)

Development of ELBE, a GPU-accelerated efficient lattice Boltzmann environment, http://www.tuhh.de/elbe
Numerical simulation of complex large-scale and turbulent flows, including ship-fluid-ice interactions and laminar-turbulent transition
Research on interactively monitored CFD simulation for research and teaching

2011
Postdoctoral research fellow, Department of Ocean Engineering, University of Rhode Island

Research on advanced Lattice Boltzmann methods for multiphase flows at high density ratios and Reynolds numbers for the numerical simulation of sea-spray generation and air-sea interaction
GPGPU implementation of Lattice Boltzmann-based shallow water and multiphase solvers
Numerical simulation of long wave propagation and Tsunami events

2007 – 2011
Institute for Computational Modeling in Civil Engineering, TU Braunschweig (Scientific assistant, Postdoc)

Fundamental research on Lattice Boltzmann methods for free surface hydrodynamics and fluid- and wave-structure interaction.
Implementation of several LBM-based free surface algorithms in code frameworks for massively parallel simulations on large-scale CPU clusters and on GPGPU boards.
Lectured in the areas of numerical methods and thermodynamics.
Education
2010
Ph.D. in Civil Engineering (Dr.-Ing.)
Kinetic approaches for the simulation of non-linear free surface flow problems in civil and environmental engineering
Department of Architecture, Civil Engineering, and Environmental Sciences, Technische Universität Braunschweig
Principal advisors: Prof. Dr.-Ing. habil. Manfred Krafczyk and Prof. Dr. Stephan T. Grilli
2007
Civil Engineering, Braunschweig University of Technology (Diplom)
Vertiefungsrichtungen Baustatik, Informationsverarbeitung im Bauwesen und Ingenieurmechanik
2007
Computational Sciences in Engineering (Master), TU Braunschweig, CSE Homepage
Research visits
Affiliations
German Association for Computational Mechanics (GACM)
Society for Industrial and Applied Mathematics (SIAM)

The Association of German Engineers (

VDI

)
Awards
Hamburg KOMPASS 2016 for the innovative maritime work of the elbe team (2016)
NVIDIA CUDA Research Center Status for the outstanding achievements of the elbe team at Hamburg University of Technology (2014)
NVIDIA Award for the best presentation on GPU computing and applications at the ICMMES Conference in Lyon (2011)
Finalist in the ECCOMAS Best European PhD Thesis Award (2010)
Award of the Duddeck foundation for top grades in civil engineering at the TU Braunschweig (2007)
Award of the City of Braunschweig (Braunschweiger Buergerpreis, 2006)
Scholarships of the German National Academic Foundation (Studienstiftung des deutschen Volkes, 2004-2007)
Scholarships of the Foundation of German Business (Stiftung der deutschen Wirtschaft, sdw, 2005-2007)
Reviewer activities
Computers and Mathematics With Applications (CAMWA), International Journal for Numerical Methods in Fluids (IJNMF), Computers and Fluids (CAF), International Journal of Offshore and Polar Engineering (IJOPE), International Journal of Multiphase Flow (IJMF), Computer Methods in Applied Mechanics and Engineering (CMAME), Communications in Computational Physics (CICP), Journal of Computational Physics (JCOMP), Offshore Mechanics and Arctic Engineering (OMAE), SPE Journal (SPE), Computation (MDPI), Fluids (MDPI), Physical Review E (PRE)